Press Release | New Concealed Frame Window to be Launched at Seawork
Seaglaze Marine Windows, Europe's leading bespoke marine glass, hatch and door manufacturer, will officially launch its new Concealed Frame Window at Seawork International 2019.
Specifically designed to withstand the rigors of commercial marine operations, Seaglaze's Concealed Frame Window is ideally suited to a range of vessel types.
The modern shipbuilder will benefit from this innovative window system as it provides a modern aesthetic, is competitively priced and is also straightforward to install.
Additionally, as part of being a patented design, shipbuilders may be able reclaim corporation tax on the purchase of these windows.
Crucial for vessels operating in extremes of weather and the challenging environments experienced in commercial marine operations, the patented Concealed Frame Window specialises in providing greater support to double glazed units, maintaining window integrity by delivering the ultimate in strength and durability.
British built and developed inhouse by the design team at Seaglaze and its sister production facility, Specialist Toughened Glass (STG), this is a parallel concept to the popular Seaglaze Hidden Frame Window that was launched in 2012 (pictured) which has been the go-to 'frameless' window type.
Mike Harbour of aluminium high-speed crew transfer vessel shipbuilder, Alicat Workboats, comments, "The advantages of fitting the hidden frame windows over direct bonded will save man hours in installation."
The Seaglaze Concealed Frame Window gives the appearance of bonded-glass hiding any external frame while still allowing easy installation similar to clamp-in frames.
Seaglaze's MD, Alastair Clayton, comments, "Compared with Seaglaze's highly successful Hidden Frame Window, which is ideal for bespoke and high-end projects, the Seaglaze Concealed Window Frame costs around 25% less than the Hidden Frame; thanks to the patented bonding solution and specially developed manufacturing techniques. This represents great value for money combined with impressive results."
Located in Norwich (UK), Seaglaze's dedication to product development across the range allows specialist glass to be used in these double-glazed units adapting them further to a customer's specific needs.
The Seaglaze Concealed Window Frame has been submitted for an award in Seawork International's 2019 Innovation Showcase.
Visit Seaglaze Marine Windows at www.seaglaze.co.uk and meet the team at Seawork International in June on stand PO81 in the Pacific Hall.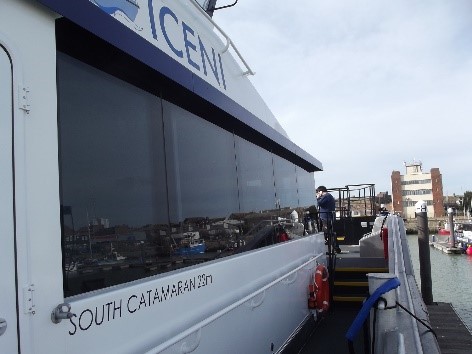 Notes to Editors
– Seaglaze Marine Windows is regarded as the leading UK bespoke marine windows, doors, hatches and glass manufacturer.
– Founded in 1970, Seaglaze is a privately owned, family-run business.
– Seaglaze employs 50 staff at its production facility in Norwich, UK.
– All glazing products within the Seaglaze range are non-yellowing, hard wearing and feature excellent resistance to weathering.
– Seaglaze designs and manufacturers all its window products using the latest 3D technology which works seamlessly with its award-winning, custom built IT system on which the entire company operates.
– Seaglaze's commercial marine clients include: Aluminium Marine Consultants, Orkney Boats, Wight Shipyard, Meercat Boats and Alicat Boats.
Images
Hi-resolution images are available upon request. Unless specifically stated, please credit images to Seaglaze.
Contact
Website www.seaglaze.co.uk
Twitter https://twitter.com/SeaglazeMarine @Seaglaze
Facebook https://www.facebook.com/SeaglazeMarineWindows @SeaglazeMarine
LinkedIn www.linkedin.com/company/seaglaze-marine-windows-limited
Tags #Seaglaze #MarineWindows #InnovativeMarineWindows #BestofBritish
Further Information
For further information and to arrange interviews please contact Hannah Kent Colls, Watermark Public Relations. T: +44 (0)7876 541876 hannah@watermarkpublicrelations.com
We will be exhibiting at the first ever Boatlife Live event at The [...]