Sign up today to subscribe to the Seaglaze Newsletter and you could be a winner!
One lucky customer will win a 10% discount off their next order* when received within three months of Southampton Boat Show.
Come to the Seaglaze stand J302 at Southampton Boat Show, fill in the form and drop it or a business card into the bowl—and don't forget to add your date of birth!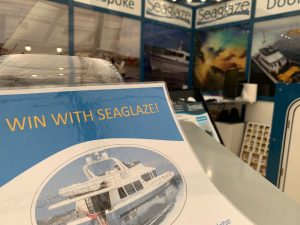 THIS COMEPETITION HAS NOW CLOSED.
Terms & Conditions
Applicable competition submissions must be placed into the bowl at stand J302.
Applicable submission are from either c

ompleted subscription slips which should include a DOB, alternatively a business card – they must display a Date Of Birth for GDPR purposes.

This competition is for Seaglaze only products up to the value of £3k

Order to be placed within 3three months of the end of the Southamoton Boat Show 2019.

Only one winner

only one entry per person / company name

Cannot be exchanged for cash. The win would be deemed the equivalent value of £0.0001.

By entering a competition entrants accept these terms and conditions together with any specific instructions and terms for such competition which may be mentioned in any electronic messages, or on the website, or communicated to entrants in any other way"competition information").

Such competition information shall prevail in the event of there being any inconsistency between these competition terms and conditions and any competition information.

The competition is open to all residents of the United Kingdom, i.e. England, Northern Ireland, Scotland, and Wales.

The opening and closing dates and times for entries are as indicated in the competition information. Any entries received before the opening and after the closing of the competition will be invalid and will not be entered into the competition. The winner will be chosen from the fish bowl at 3pm on the last day of SIBS19. The winner will be notified. 

Entry to the competition may only be made through the applicable method(s) indicated in the competition information

Any entries which are incomplete, incorrect, incomprehensible will be void.

Standard Seaglaze product T&C's apply with winning order.