SEAGLAZE HATCHES
(Traditional Weathertight Hatches)
Seaglaze Hatches have been specifically designed for use on inland, coastal and ocean going craft. They can be customized to meet your requirements, although we do have a standard size of 500 x 500mm made to order.
As standard we fit our own design of marine grade aluminium hinges and fittings.  Our design gives a positive defence against leakage and the ingress of water.
At Seaglaze we use 6mm toughened safety glass for the glazing.  This is available in clear, opaque or tinted.
Aluminium bars can be placed over the glazing on our hatches for additional strength and durability. The bars act as an additional layer of protection against scuffs and scratches occurring on the glass and act as a deterrent towards walking on the surface of the hatch.
The protection bars will always match the finish of the hatch (anodised or coated) unless otherwise stated and are a fixed width though a variable quantity may be used depending on the size of the hatch.
These hatches also come in a range of finishes.  They can either have a silver satin anodised finish, powder coated to a colour that suits your needs or both (silver satin anodised base with a powder coated finish).
Made to standard or custom sizes

Pre-drilled for countersunk No.8 tapping screws

Additional bars available

Adjustable stays can be added

Choice of glazing and finish
CASE STUDY: Nick Billingsley
A private boat owner came to Seaglaze looking for a new hatch for his sailing boat. The original one that was fitted was narrower at one end compared to the other. As Nick was local he bought in the old hatch for the design team to digitise and pattern meaning a shiny new hatch that fit like a glove.
Related Documents
Glazing Options
| | |
| --- | --- |
| 6mm Glass (Grey, bronze or clear) | |
| Acrylic/Polycarbonate | |
| Aluminium Panel | |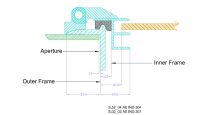 We use Seaglaze as both a supplier and a customer and have enjoyed an excellent working relationship where our join expertise has helped develop our key products.
The message from here is very positive and working with you has been a good experience. Right from meeting at the boatshow when you were able to answer all my questions and guide me through what had to be done, to delivery of a well made crate, I gave nothing but praise for the care and attention I received
I am very happy with the quality product your company have made it for me. The people at work has been very helpful dealing with me, always there when I turned up at 7ish …
Enquire Now
Want to find out more about this product and how it may fit your needs? Fill out the form below: