SERIES 23
(Internal and External – Through Fix)
 The S23 sliding door is ideal for areas where a conventional door would impinge on the available space or fittings, planting on the outside of the superstructure it contains a 3-sided frame and a sliding pane of glass.
Made from robust marine grade aluminium, the doors are built to customer size and shapes to fit virtually any opening.
The doors are provided fully assembled, complete with sliding doors, top and bottom sliding runners and track; ready for installation.
Can be hung externally or sit in apeture

Variety of finishes available
CASE STUDY: Coming Soon
Related Documents
Window Options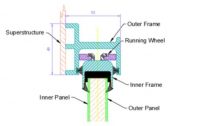 We use Seaglaze as both a supplier and a customer and have enjoyed an excellent working relationship where our join expertise has helped develop our key products.
The message from here is very positive and working with you has been a good experience. Right from meeting at the boatshow when you were able to answer all my questions and guide me through what had to be done, to delivery of a well made crate, I gave nothing but praise for the care and attention I received
I am very happy the product Seaglaze have provided for me. The customer team were very helpful and some was always there when I turned up at 7am…
Enquire Now
Want to find out more about this product and how it may fit your needs? Fill out the form below: