SERIES 22
(External – Clamp In/Through Fix – Dogged)
Our newest door, the Series 22 is designed to fall between our Series 21 and 24 doors in terms of outright 'weathertightness'.
Unlike the Series 21, this door can be (independently) dogged, but is lighter in weight compared to the Series 24 door.
This series is designed for use of commercial craft that operate offshore and in coastal waters.
The panel on this section is strong, rigid, light, insulated and has durability.
There are several design options to choose from.  The options are single or double glazing, choice of finish, custom size window and locks etc.  The finishes which are available are to suit your needs.  These vary from having a silver satin anodised base, powder coating (in a colour of your choice) or a combination of both.
2mm thick aluminium panels with 25mm of foam between
CASE STUDY: Coming Soon
Related Documents
Window Options
| | |
| --- | --- |
| Fixed | |
| Double Glazed Fixed | |
| Half Drop | |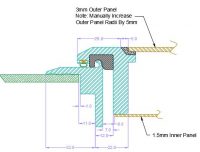 We use Seaglaze as both a supplier and a customer and have enjoyed an excellent working relationship where our join expertise has helped develop our key products.
The message from here is very positive and working with you has been a good experience. Right from meeting at the boatshow when you were able to answer all my questions and guide me through what had to be done, to delivery of a well made crate, I gave nothing but praise for the care and attention I received
I am very happy with the product Seaglaze provided for me. Th customer team were very helpful when dealing with me and there was always someone there when I turned up at 7ish…
Enquire Now
Want to find out more about this product and how it may fit your needs? Fill out the form below: